Accessories
SUCTION FILTER
When blower takes in air from atmosphere, it would carry air borne impurities/ debris along with it.
These impurities may affect smooth blower functioning.
Also, these impurities may not be desired at the application point.
Precisely for these reasons, Suction Filter at inlet of Blower is recommended, to separate out solid impurities above 10 micron.
For easier installation, Suction Filter is accompanied with a bend.
When working filter clogs up causing malfunctioning of blower, spare Suction Filter Cartridges are available for replacement.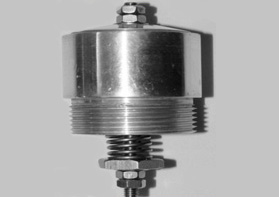 PRESSURE / VACUUM RELIEF VALVE
When blower is operating within rated Pressure / Vacuum range, it runs smoothly.
However, due to changed operating conditions, Pressure / Vacuum may rise beyond its rated value. Such a situation may cause blower to fail, due to overheating & motor drawing higher than rated current.
Pressure / Vacuum Relief Valves are installed on blower. These valves will be set to open up, allowing excess pressure to bleed, or excess vacuum to drop, by allowing air in corrective direction.
Installing Relief Valve will safe guard the blower and motor ,against failure due to overloading.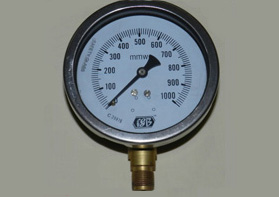 PRESSURE / VACUUM GAUGE
Pressure / Vacuum Gauges are installed on to blower, normally with an isolation valve, either on suction or on discharge side, to monitor the Pressure/Vacuum, being delivered by blower, when in operation.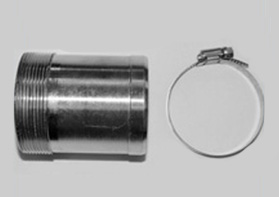 HOSE NOZZLE AND HOSE CLAMP
Hose nozzles are used to connect flexible plastic/rubber hoses to the blower. These hoses are held in place with hose clamps.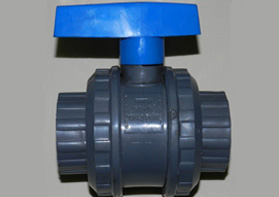 ON / OFF BALL VALVE
ON/OFF Ball Valves are installed on to the blower, to turn the supply of air ON or OFF or adjust to required flow.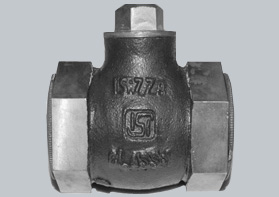 NON RETURN(CHECK) VALVE
Non Return Valves are installed on blower system, to protect the blower system, from damage, which may be caused, due to malfunctioning on downstream side.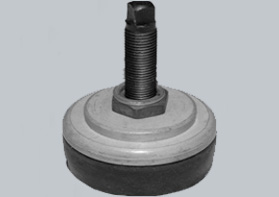 ANTI VIBRATION MOUNTING
Properly designed and installed Vibration Mountings / Pads will reduce the vibrations and noise, when blower is operating. It will also enhance blower life.
Anti Vibration Mountings replaces fixed mountings of blowers.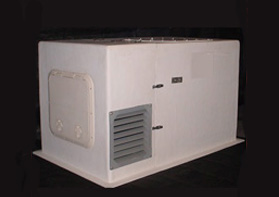 ACOUSTIC ENCLOSURES
Acoustic Enclosures are properly designed to reduce noise, when blower is operational.
These enclosures are designed to provide ease of operational facility, maintenance and proper ventilation.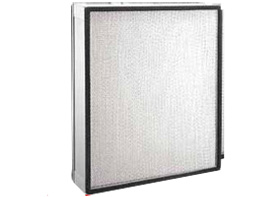 HEPA FILTERS
When air delivered from blower is required to be purified by removal of sub micron solid particles or organism, HEPA filters are installed.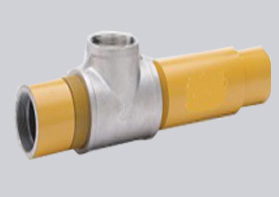 CONVEYING EDUCTORS / VENTURI / AIR JET TRANSPORTATION SYSTEMS
Readymade standardized bulk handling systems are available, to be used with blowers, to enable low pressure air, to be used to move powders, pallets and bulk solids with no moving parts.
Presently this is not within our scope of manufacture or supply. We may introduce these products at a later date.
VACUUM FILTERS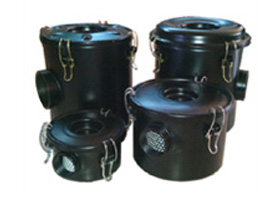 Applications & Equipment


Vacuum Pumps & System - P.D,Side Channel, Rotary Vane, Screw, Piston
Vacuum Packaging Equipment
Vacuum Lifters
Blowers- Side Channel & P.D
Intake Suction Filters
Pneumatic Conveying Systems
Soil Venting/ Remediation
Remote Installations for Piston & Screw Compressors
Printing Industry
Factory Automation Equip
Leak Detection Systems
Wood Working
Medical Industry
Features & Specifications


Vacuum Level: Typically 1x103 mmhg (1.3 x 103 mbar)
Polyester : 99% + removal efficiency standard to 5 micron
Paper : 99% + removal efficiency standard to 2 micron
Brazed fittings for High Vacuum duty
Stainless steel torsion clips for durability
Low Pressure drop
Positive engagement O-ring seal system
Seamless drawn housings
Large dirt holding capacity and Easy field cleaning,especially when mounted horizontally or inverted
Rugged all steel construction W/backed enamel finish
Various Media
Temp (continuous) : min-15°F(-26°C) Max 220°F (104°C)
Filter change out differential : 10" – 15" H2O Over initial delta P
Pressure drop graphs available upon request
---